Chibiusa but now she is called Usagi Shilde or know as
Princess Lady Serenity and the new Sailor moon(Sailor Neo moon)
the daghter of Neo Queen Serenity and King Endymion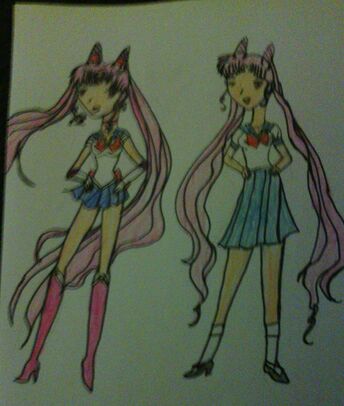 Sailor Neo Moon
Name:
Usagi Shilde

All Aliases:

Lady Serenity, 

Princess Lady Serenity

,Usagi 

Age: 
15
Hight:
5"4
Wight:
100
Birthday:
June 30th
Eye Color:
Red
Hair Color:
Pink 
She is know as The New moon Scouts
AppearanceEdit
Sailor Neo Moon appears just the same as her human identity, but her Sailor suit is colored bright blue and has red-and-white and pink barrettes on her bright pink ordango pigtails. Her gloves are white with bright pink ends and cover most of her arms.
Releships
Edit
Sera  : She loves her couis so much
Neo Queen Serenity : when she was yaunger she didn't like her mother but when she got older she like her mother
Ad blocker interference detected!
Wikia is a free-to-use site that makes money from advertising. We have a modified experience for viewers using ad blockers

Wikia is not accessible if you've made further modifications. Remove the custom ad blocker rule(s) and the page will load as expected.