She is the  cousin of lady serenity and the nice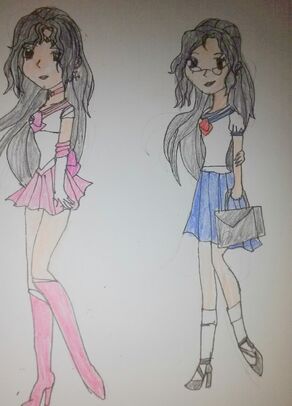 of King  Endymion and Neo Queen Serenity.
Appearance
Edit
She has black hair like her mother
and her eyes are brown like her father she has Dark peach
skin. 
Civlen outfitsEdit
her outfit has are all red and pink her school unform 
is blue and red she has glasses in her civenl outfit
scout outfitEdit
Her scout outfit is red and pink 
she has a knee high boots that red and her gloves are white and the bands are red.
her brooch is a gold brooch with a captle A with aarows on it.
Haven scoutEdit
Her haeven sailor scouts is the same but her back bow is longer she has a seethen skirt bottom 
her brooch has angle wings on them and her brooch is a daimond shap
Princess outfitEdit
she princess dress is a pink long dress with red shrips she has a 
tai up chocker with a A she also has a red ribbin on her right arm  
her shoes are pink high heels with red ribbine sheraps the goes up to her ankles
Ad blocker interference detected!
Wikia is a free-to-use site that makes money from advertising. We have a modified experience for viewers using ad blockers

Wikia is not accessible if you've made further modifications. Remove the custom ad blocker rule(s) and the page will load as expected.